P.R.V. - Manufacturer's Plates
Here is a collection of various PRV manufacturer's plates.
(I'd be pleased to know of any other examples or any further information. Ed.)
Here is the Maker's Plate from Routemaster RM445. New in August 1960, the vehicle had a 25 year run before being withdrawn in March 1985, then sold in August and subsequently scrapped. These plates were situated above the luggage compartment by where the conductor stood. Here the thin stamped-out alloy plate is mounted on ash (the popular timber at PRV for the frames of pre-Routemaster buses); I use this as a desk paperweight.
This plate was of a London Transport generic design (following the roundel & typeface inspired by Frank Pick) and standardised across LT's buses including RT's and Routemasters etc.; so the plates looked similar but carried the name of the specific manufacturer that, in the case of the Routemaster, except for a few prototypes, was PRV. I believe the Patent Numbers shown are those belonging to London Transport.

#----------#----------#----------#----------#----------#----------#
Below is another PRV Maker's Plate. I'm uncertain as to what vehicles this example was applied, but in my opinion it was unlikely to have been London Transport. The earliest it dates from is October 1946 as prior to then, and since April 1930, the company was known as Park Royal Coachworks. It also carries the familiar Hall Lewis 'sedan chair' logo that respects the company's heritage.
These high quality plates (about 6" x 2.5") were made of a die cast aluminium compound (probably zinc) and this example was a sample acquired by the MOD drawing office no doubt to evaluate its use for MOD vehicles; evidently this one has never been applied to a vehicle (there are no marks around the fixing holes). Steve Rawlings, whose father Cecil worked as a draughtsman in the MOD Drawing Office, supplied this plate.
(Does anyone know which vehicles these plates were fitted to? Ed.)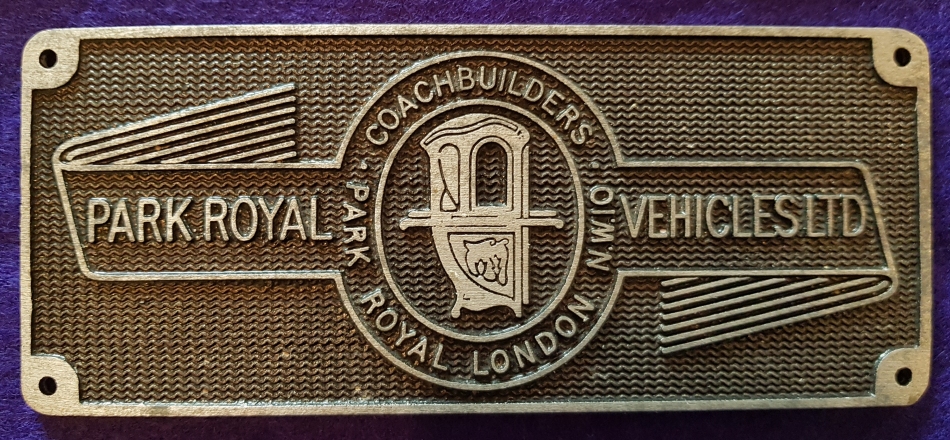 #----------#----------#----------#----------#----------#----------#
I believe the next plate below is a PRV plate dating from October 1946 as the short red painted lines on the right of the plate, and faintly on the left too, suggest that the original sported angled lines perhaps similar to those in the plate above. And, as the word 'coachbuilders' is used rather than 'coachworks' I do think it is a PRV plate; but from what vehicle?
It's made of a thin but ridged brass plate, etched and painted with the 'sedan chair' logo. The plate has been cut out of a larger plate (and yes - it wasn't well done as the angles are not 90 deg.); but the size of the logo suggests the original plate was about 6" x 2.25".
(Does anyone know which vehicles this plate was fitted to? Ed.)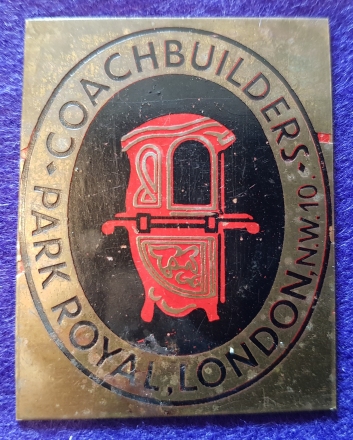 #----------#----------#----------#----------#----------#----------#
The stylish plate below is attached, to a 1939 Park Royal (Coachworks) bodied AEC Regent, Salford 235 (Reg. BBA 560) using pop-rivets, (unlikely to be the original method that was likely to have been brass, bifurcated or tubular). The vehicle was withdrawn from service in 1948 and is preserved at the Greater Manchester Transport Society Museum and currently (March 2020) undergoing maintenance.
Further details of this vehicle can be found here: (Note: To easily locate it on the page search for 235. - the DOT is important.)
http://www.aecbus.org.uk/preserved.htm
The following is the image of this bus on the above site:
http://www.aecbus.org.uk/pictures/salford235.jpg
The brass plate is placed low down at the entrance to the cab and the unusual hand painted logo is on the lower saloon front bulkhead. It's interesting that the brass plate doesn't incorporate the Hall Lewis 'sedan chair' logo whereas the hand painted logo does. This suggests that the use of the Hall Lewis 'sedan chair' logo wasn't a corporate decision upon PRC's formation in 1930 but an idea that grew as the business expanded; resulting in the time-consuming and expensive artwork seen in the painted logo. Later, many vehicle logos were 'transfers' and then over-painted or otherwise 'touched up'; but this does look to be hand-crafted.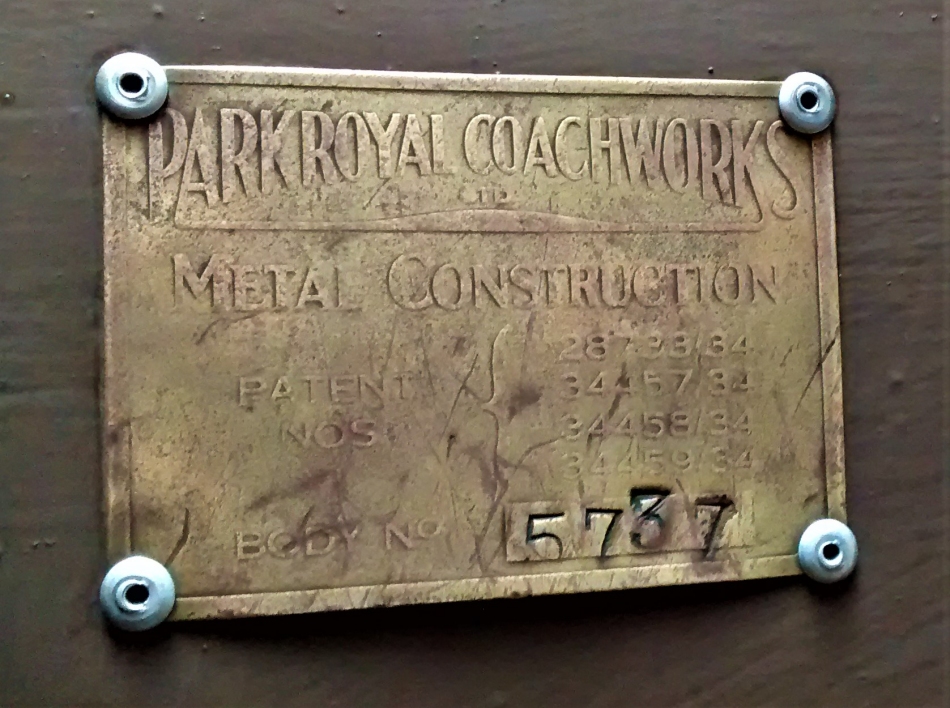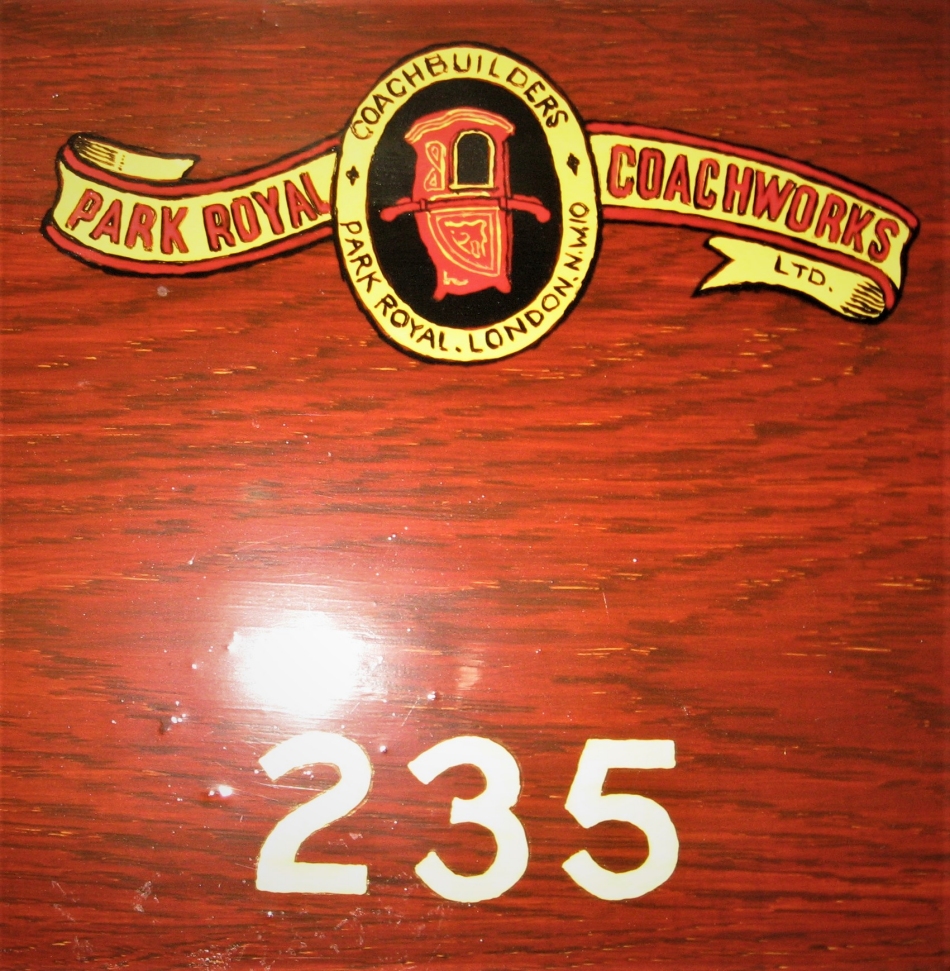 Both images above were supplied by Mike Shaw (the Museum's Image Curator), to whom I am also grateful for the information, and are copyright © Museum of Transport, Greater Manchester; they are reproduced here by kind permission of the museum.
#----------#----------#----------#----------#----------#----------#
Here below are two roundels about 8.89cm diameter (3.5 inches) and approximately 3mm thick with 9.5mm holes about 5cm (2 inches) apart; made of plastic, just one of the holes is countersunk. Christine Patterson's late father-in-law worked as a mechanic with Scottish Road Services and these mystery roundels were discovered in his collection.
Tantalisingly printed with "PRV Ltd" in yellow/gold on black they may be something to do with Park Royal Vehicles or maybe they're from a similarly named company. Might these badges being sought by Bob Jones be a clue?
(Does anyone know what these are and what they were used for? Ed.)
This mystery has been solved by Stephen Gray who advises that these roundels were definitely fitted to Mandator and Mammoth Major Mark 5 cabs.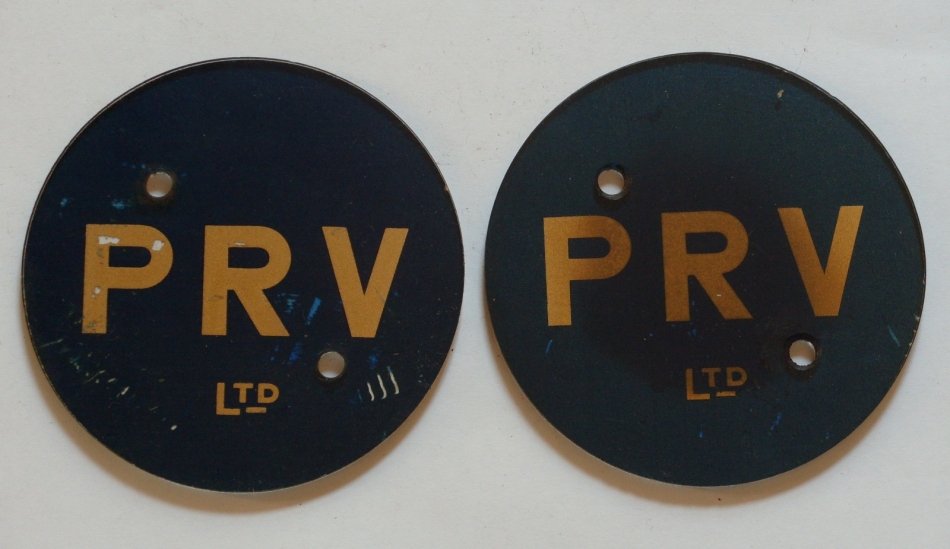 #----------#----------#----------#----------#----------#----------#
When PRV built 150 Green Godesses during the 1950's they evidently reused some roundels left over from Park Royal Coachworks days and pressed them into use.
This one is on PGW163 and reads 's PRC 37556. (Photo courtesy Brain Burgess)
#----------#----------#----------#----------#----------#----------#