By Brian Burgess


PGW163 (Bedford Chassis 6920 with PRV Body B37566) is owned by Brian Burgess who kindly supplied these images and the main articles. Brian comments "due to Park Royal's craftsmanship, PGW163's body is in as good a condition as the day she left the factory and I personally know of several other Park Royal bodied Green Goddesses in active preservation today."


Here is PGW163's cab rear seat arrangement and its coachbuilder's body number plate, that is underneath the seat and to the right. It is difficult to see the location of the plate in the first image but the handle end of the starting-handle is pointing directly at it. The plate reads PRC 37556 and, whilst hard to see on the image, Brian is reluctant to clean it more in case it disappears altogether. (What is very interesting is the plate states clearly PRC meaning Park Royal Coachworks. PRC was renamed PRV (Park Royal Vehicles) in 1946 upon the company's floatation. Thus Park Royal used old PRC plates for the 150 Green Goddesses and stamped them up. Anything to save cost and I don't blame them for it [Ed.] (see the History page).



PGW163 is pictured here alongside Routemaster RM7 (VLT7) at the Manchester Museum of Transport in 2006. RM7 was one of the first three production buses; new in June 1959 it went into service at Willesden. It is now preserved by Mike Hurley. Brian writes "I asked the organisers of the open day to put me as near to her (RM7) as possible; they (the Museum staff, curators etc.) had no idea they were both built by the same company."

Pictured here in 2008 at the Cheshire Steam Fair at Tabley Hall near Knutsford alongside RM1097 (201UXJ originally 97CLT) new into service in February 1962 and used on the last crew day in 2005, this Routemaster is now preserved by Mr G Unsworth.

Again two PRV products together! Although PGW 163 came out of the dream factory nine years before RM 1590, here they are together at a Festival in Middlewich in 2010. RM 1590 (590 CLT), that was sold out of service in 1994 from RA (Waterloo Station Base) to a dealer, is now used by St. Luke's Hospice and was refurbished by Bentley Motors of Crewe with a superb, hand crafted, bespoke interior to be used for fund raising.
PGW163 and I

163's exact birthday is unknown. With a chassis number of 6920, this brings it into the range of chassis built by Bedford in 1954, whilst the Park Royal body number, B37556 puts it into a batch of fire appliances built between November 1954 and February 1955 (PGW51-200). So with the first piece of paperwork in its service file bearing the date 1-1-55, I would presume a build date of December 1954, although the Home Office did not register her with a London registration mark until 24th April 1956.

PGW163's servicing paperwork shows her first Home Office Supply and Transport Repair Depot was Membury, Devon, where the first inspection was in April 1957. An interesting detail from the six-page report was that under Bodywork, the condition was given as 'fairly good' and the colour being 'green undercoat'. Not until a service in 1967 was the bodywork shown as 'finished green'

The next two-yearly inspection report shows PGW163 being stored at Steventon, Oxfordshire. From 1961 until 1971 she was at Dunkeswell, Devon. From 1975 she returned to Steventon until taken to Marchington, Staffordshire in 1992, when all Emergency Pumps storage/care was transferred to TNT (the huge logistics company who, through a subsidiary, TNT Truckcare, operated the vast storage and servicing facility at Marchington near Uttoxeter that looked after the Home Office fleet of 1034 Green Goddesses).

When the national firefighters' strike commenced in November 1977, Operation Burberry swung into action putting stored Home Office appliances on the streets of the UK, and perhaps for the first time with huge publicity, exposing the British public to the Green Goddess on a nationwide scale.

I was serving in the RAF in 1977, stationed at RAF Wittering, part of a RAF Police specialist unit providing escort cover for convoys. When Operation Burberry commenced, we lost all of our fireman immediately as they were trained in breathing apparatus and were used as first response teams. As the strike spread, drivers were needed in greater numbers and our Motor Transport drivers all disappeared. We were then left, around thirty RAF Police, polishing our Norton Commando bikes and Ford transits to a high shine.

As the pool of HGV qualified service (RN, ARMY, RAF) drivers were gradually used up, the first accidents then occurred with the Green Goddesses. Non-HGV qualified service personnel enthusiastically, and in good faith responding to emergencies, threw their new mounts around with sometimes fatal results. As detailed above, these vehicles were not designed for high-speed response, and with traction tyres, vacuum assisted brakes and "hand-draulic" steering could be a real handful for drivers used to cars or light vans. It was decided to train up more service personnel to HGV standard to prevent any more accidents and that was when our non-productive unit had a spotlight shone upon it. In December 1977 myself and five other unemployed bikers were despatched to RAF St. Athan near Barry, South Wales, for a two-week HGV-3 course.

On the successful passing of the test on TK Bedfords (the TK was a Bedford truck used by all three Services, a direct descendant of the RL used as the chassis for Green Goddesses) we all returned to camp and were warned of a move to a Service Fire Station (SFS) 'somewhere in England'…….and so January 1978 found us at SFS10 that was housed at a Royal Signals Territorial Army Centre in Bromley, Kent. We took over three Green Goddesses from a Royal Signals unit and I was allocated PGW163, call sign 10B, in the role of driver/operator. At the end of Operation Burberry, I returned to RAF Wittering and eighteen months later, civvy street. PGW163 returned to Steventon with 569 miles logged.
PGW163 in 1978
(See also: The great Kelsey Park allotment fire of January 1978…….)

My procurement of PGW163

I always remembered my days driving and operating 163 with great fondness, and in 1995 when I saw a book about the Auxiliary Fire Service - The Green Machine by Barry Hollis & John Thompson, I purchased it and was thrilled to see that PGW163 was still in existence and in Home Office storage. Over the next few years, the odd Green Goddess was seen at shows and glimpsed behind police stations during minor fireman strikes and I always wondered if I would see 163 again.
Early in 2005, I decided to write to John Prescott who, as Deputy Prime Minister, was responsible for all things fire service, and simply asked if PGW163 was still in store as listed in 1995. Months went by and no reply was forthcoming when an e-mail suddenly arrived from Marchington. The wheels and cogs of government had indeed ground and turned, and my request for information had landed up on the desk of John Schofield, the manager at the TNT facility at Marchington that was responsible for maintaining the Home Office controlled emergency fire service fleet.

John Schofield informed me that the decision had been taken to dispose of the entire reserve fleet of emergency pumps and that WSV (Witham Specialist Vehicles Ltd., the UK Sales & Marketing for MOD Plant & Equipment) of Grantham would be handling the disposal. He could give no indication of when or how PGW163 would be de-commissioned and disposed of.

I contacted Brian Macdonald at Witham's who was most helpful and promised to inform me when PGW163 arrived. During the next few months I followed with interest the growing media coverage of the Green Goddesses disposal and prayed that my particular vehicle would not be among the many pumps gifted overseas by the government. The first tender auction at Witham's in 2005 gave me the opportunity to travel down to Grantham and get up close to an emergency pump for the first time in 27 years. Brian Macdonald must have thought I was mad, as he had around 100 Green Goddesses to offer me and I was not interested in any of them!!!
PGW 163 was struck off charge by the Home Office at the end of January 2006 and was despatched to WSV for disposal; the sales team at WSV being primed by me to look out for her when SOC.



Finally in February 2006 the call came when PGW163 arrived on a low loader at Witham's; the deal was done, and after 28 years separation, we were reunited.



My first glimpse of PGW 163 since 1978 (note; the dent in the nearside rear kindly put there by some careless tank driver!).

Along with a few members of my family (who are also Limbert's Transport) I went to Withams Specialist Vehicles at North Witham in February to pick her up.

The happy recovery team who all had a clutch up & down in 163 before loading.
(My thanks must go to Joe & Ian Cartlidge for the superb paint job, Altrincham Sign Company for the vinyl's and to Roy Limbert of Limberts Transport for secure and weatherproof storage.)
She was re-sprayed in 2006 and the markings were applied to bring her back to how she looked in January 1978 whilst being operated by the RAF at Bromley.

Here's 163 stripped of Fresco Day-Glo markings ready for painting. Notice call sign VL11 appearing under her skin, I have not been able to ascertain when that was applied, but it is not Fresco. I think it might refer to 1980 when 163 was sent to Tidworth Barracks for Operation Scarab, a strike that never materialised and so she languished with the tankies of The Queen's Royal Hussars for 9 months, suffering a dented back end, before going back into storage.


PGW 163 outside the paint shop after the top coat had been applied.

The sign-writer doing his job.
PGW163's lockers were repainted in 2012 and restoring them to their original colour, or as near as today's pigments would allow, was an achievement.
(The lockers had previously been painted in a colour which was thought to be original, but it turned out to be too yellow. So the beige colour (RAL 1001) from the RAL Colour Standard Chart was used that matched very well with the original colour of locker 1. Obviously the original paint colour would have been from the BS381c chart from which the deep bronze green and the post office red applied to some AFS vehicles originated [see the non Green Goddess Article]. The reason locker 1 hasn't been repainted is that it requires four good and strong men to remove the "featherweight pump" from the locker.)

Locker 1 in its original colour.

And locker 2 in primer.


Lockers 1, 2, 3, 4 & 5 finished ( note the good match with locker 1 that was not done.)


The kit back in lockers 1, 2, 3, 4 & 5.

Lockers 6, 7 & 8 finished.


The kit back in lockers 6, 7, 8 & 9 (locker 10 was the stowage space under the crew seat).



And this is how she looked after nearly sixty years.



PGW 163 was one of three stationed at Service Fire Station 10 (SFS10) in Bromley, Kent carrying the callsigns 10A, 10B & 10C. The first occupants of SFS10 were the 1st Battalion Royal Fusiliers who must have been responsible for marking up the bare GG's received from storage at Steventon HO depot. As can be seen, the instruction must have gone out to three squaddies to mark up the vehicles and each squaddie had his own take on 10B!!!






Now PGW163 is shown at rallies whenever the opportunity arises. Here she is at Sandbach on Sunday April 17th 2016; alongside a Weymann version.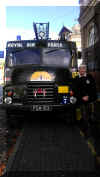 And after a full summer of events, here she is doing a grand job of attracting attention at Altrincham before Remembrance 2016 helping the Royal British Legion get some cash in for the annual Poppy appeal. The local council gave me permission to park in front of the market and she attracted a load of interest. I had to wrap up and leave at 15:30 as the collecting box was so full I could not accept any more donations.
This article is dedicated to Rangers Thompson and McLaughlin of the Royal Irish Rangers who died when the Green Goddess, in which they were travelling, was involved in an accident on Oldham Road, Manchester on December 6th 1977; answering an emergency call that tragically proved to be a false alarm. A plaque commemorating these servicemen was placed in Philips Park near to the scene of the accident in August 2006 with PGW163 in attendance. (Due to water slopping about in the rear, the Green Goddess skidded, lost control and overturned into a petrol station. Ed.)
İ Brian Burgess
Update by the Editor: Sunday July 7th 2019 witnessed the end of one chapter and the beginning of another in the hopefully never-ending story of PGW 163. Brian Burgess has reluctantly decided to part with his exquisite PRV-built Green Goddess and below are the images of her departing Cheshire for her new home in Kent. Now about 65 years old she is in remarkable condition and ready to keep her marque visible in the eyes of those interested in social history. May she long do so under her new ownership.
Images İ Brian Burgess