This page is dedicated to PRV or Roe products initially destined for East Yorkshire Motor Services; thus it is a compilation of products found elsewhere on this website.
Hall Lewis (Hall Lewis was the forunner of Park Royal Coachworks/Vehicles.)

This Hall Lewis C25R bodied Leyland TS2 (60634-7/9) was one of a batch of ten delivered March & April 1929 to East Yorkshire. They were numbered 120-9, KH 7914-23, but 124/6/7 & 9 were not used and passed to Eastern Counties. They covered express service routes including Scarborough to London. Information supplied by James Type compiled from Terry Stapley & James Fairchild (Transport Yorkshire Preservation Group). Further information from John Bennett.


Pictured outside the premises of Charles H Roe in Crossgates, Leeds this 1957 Leyland Tiger Cub (PSUC/1), Registration Number VKH 668, with attractive Roe B39F body. This was first of 6 such buses delivered to East Yorkshire Motor Services Limited, of Hull. (Information courtesy of Roger Hardy and Mike Averill.)




Registration Number 9727AT built in May 1961 (Body Nos. B47027-30); for East Yorkshire.




Registration Number 3754RH built in Feb 1963 (Body Nos. B48983-95); for East Yorkshire.




Registration Number 9766RH Built in June 1964 (Body Nos. B49901-10); for East Yorkshire.




Registration Number CKH786C Built in November 1964 (Body Nos. B52303-16); for East Yorkshire.




Registration Number GAT819D Built in March 1966 (Body Nos. B53787-96); for East Yorkshire.
Seen best in this image, but also in Renown's & Bridgemasters above and the first Fleetline below, is the rather distinctive East Yorkshire moquette. I have been asked about the supplier of this moquette, and given that there appears to be little mention of it elsewhere on the Internet I shall redress that here. John Darwent kindly researched this, and I can confirm that Holdsworth was almost certainly the supplier. Now part of the Camira Group, Holdsworth, that began in 1822, has, almost since its inception, been a major force in furnishing public transport.




Registration Number MAT833F Built December 1967 (Body Nos. B55407-18); for East Yorkshire.




Registration Number RAT866G Built April 1969 (Body Nos. B56715-21); for East Yorkshire.

John Kaye comments that these are Roe photographs (R881 in the lower right corner of the first) and that they bear a strong resemblance to the interior of VKH 674 and could possibly be the interior of one of the batch of Leylands for East Yorkshire (VKH 668-673). Can you add to this?
0----------0----------0----------0----------0
No I'm not advertising a drinking establishment; I came across this intriguing photo in Don Matthews collection. It is of a Leyland Titan TD5 with an ECW body, modified to fit through an archway in Beverley, Yorkshire, known locally as the Beverley Bar.
Read about it here:

https://beverleyfm.com/history/beverley-history-the-bar-buses/
http://www.castlesfortsbattles.co.uk/yorkshire/beverley_north_bar.html
https://www.google.co.uk/maps/the_beverley_bar_streetview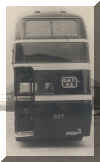 Someone has evidently enhanced the shape of the roof by sketching around the image, hardly noticeable in the small original print but made obvious by the scanner. No doubt supplied to PRV to show the requirements for busses to be used on this route.
See bus pictures here:
https://www.google.com/beverley+bar+bus
0----------0----------0----------0----------0