Robbie Dixon kindly sent in images of his newly renovated 1968 Land Rover Series 2a (original reg.: 48FG91); along with its military 'B Card' that shows it having been loaned, when new, to PRV. Robbie recently (2020) acquired the vehicle saving it from languishing any longer in a state of gradual deterioration.
After being disposed of by the MOD it was used by the Fire Service as a support vehicle and has since had many layers of paint of varying colours applied to it.
(This vehicle would have been used in the secure Experimental Shop at PRV just south of the main offices in Abbey Road where Land Rovers and other military vehicles were used for evaluation and testing for the suitability of attaching various trailers that housed MOD-secret equipment. After 50+ years it's no doubt rare to find one of the Land Rovers that was actually at PRV - there cannot have been too many of them. Ed.)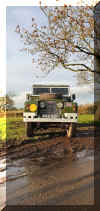 (Images Courtesy & Copyright © Robbie Dixon - All Rights Reserved).

Here are two military vehicles in the works at PRV and pictured here with, the man in the white coat, Cecil (aka Cyril) Rawlings. Kindly sent in by his son Steve Rawlings. Steve's brother Peter has identified these as Humber Pigs and that is certain. The intrigue is why are they pictured at PRV's works? Did PRV manufacture any additions to these vehicles?
(Does anyone know anything more about these vehicles? Ed.)
I am grateful to Clive Elliott who has kindly provided the following analysis and some additional images below (Copyright © Clive Elliott - All Rights Reserved):
The two vehicles shown above are, to give them their correct designation, "TRUCK, 1 TON, ARMOURED, 4x4, HUMBER", more commonly known as "Pigs" due to their appearance rather than their handling. Whilst the term "Pig" is unofficial the term was adopted in semi-official parlance in Northern Ireland. Like all military vehicles the "1 Ton" relates to the payload; "Pigs" weigh somewhat more.
The first "Pigs" were built as prototypes for Troop Trials in Malaya in 1956 and it is likely that, at the time, they were called "Humber Pigs" to differentiate them from another vehicle, the "Bedford Pig" that was an armoured Bedford RL.
However the vehicles above are definitely Mk 1 Humber "Pigs" (FV1612), as opposed to (FV1611) the personnel carrier. These were only in production between 1959-60. The Humber chassis being made by the Rootes Group in Coventry with the armoured bodies built by Joseph Sankey in Nottingham & the Royal Ordnance Factories in Woolwich. (The FV designation is a design specification drawn up by FVRDE - Fighting Vehicle Research & Development Establishment.)
They are both FFW (Fitted For Wireless) They are not yet FFR (Fitted for Radio) although these conversions were available from late 1962. All "Pigs" had three antenna bases but when the FFW was upgraded to FFR a fourth base was added to the rear off side; in the image, 26BK74 does not have this fitted.

The history of 26BK74 shows it was fitted with Station Radio 'R' Type 'H'. This was a DF (Direction Finding) system that used several "Pigs" and was trialled in the early 1960s. I have the User Handbook for the second trial in March 1963, so the trials would have probably started in 1962, which is almost certainly the year of this photo.

The history of the 27BK70 does not mention Type H, but that means nothing (I had a "Pig" that was used for this and there was no record card evidence). The picture shows that it has a telescopic mast on one side and on one of the antenna brackets, that resembles the base for Type H. There was a penthouse used and I suspect these may have been made by Park Royal and carried in the near side locker (opened on photo) and no doubt PRV made the internal fittings & furniture in the "Pig" itself.
(Penthouse in Army parlance means a form of tentage that is attached to a vehicle for some command or operational purpose, in contrast to a more basic shelter that might attach to a vehicle for the crew to sleep in. Military tentage is described in my shelters.pdf file.)
I suspect these "Pigs" were over from BAOR (British Army on the Rhine) as:
- BAOR were very keen on painting vehicles with anti-freeze marks (see above the Union Flag a white square with a red disc).
- The Union Flag was used in BAOR (there would be no need in the UK).
- also the Bridge Class is shown (in peacetime UK, the Bridge Class was not shown as bridges were not classified for loads, whereas in Germany they were.
Both of these "Pigs" were up-armoured in 1972-3 for Service in Northern Ireland and converted into personnel carriers.
- 27 BK 70 was eventually cannibalised for spares in Northern Ireland (spares for these vehicles became an acute problem).
- 26 BK 74 was struck off to 36 Command Workshops on 31 July 1980.







Here 27 BK 70 is shown with tentage.
What Park Royal definitely manufactured was the Cipher Office that was a trailer for attachment to any General Service Truck in the 1 Ton payload category (e.g. Humber FV1600 series, Austin K9, Morris MRA1).





These are images of a PRV manufactured Cipher Office (Courtesy & Copyright © Clive Elliott - All Rights Reserved).
Clive has provided the following explanation of the Cipher Office:
The bodywork was produced by Park Royal Vehicles in limited numbers (perhaps 30) from about 1957. They were intended for use at Brigade or Divisional HQ for encoding messages using a 'Typex No. 2' cipher machine. An incoming message would be posted through letter box flap on the left side and the registration clerk was notified by the use of the bell push by the rear door. The message, once logged, was encoded by the 'Typex' operator and the, now secure message, was relayed using a 'Telephone Type L' or 'J' exiting via terminals by the rear door. An external flap allowed connection to an earth stake and a 250 volt AC source, through a circuit breaker, to power lights, a panel heater and the 'Typex'. Alternatively three sets of 24 volt batteries within the office were used to provide lighting, ventilation and, via a rotary converter, power for the 'Typex'. A spare 'Typex' was carried and both units could be quickly removed with the associated wiring, the rotary converter and one set of batteries, for use in a dug-out or building, if required. A 100 yard power cable was stored on a drum mounted on a frame inside, and could be fitted externally to the rear right hand side of the office. (Copyright © Clive Elliott - All Rights Reserved).
Further information on the Humber "Pig" can be found here.
0----------0----------0----------0----------0
The Matador was a lorry/military chassis designed as a 4x2 or 4x4 arrangement that served a variety of military roles. As a 4x4 it formed the basis of the Deacon anti-tank gun. Produced at Park Royal. To me it looks very fragile and open to easy attack.

The following information kindly supplied by John Harrington of the AEC Society.
The Deacon is a self propelled gun built on an AEC Matador 4x4 chassis. These vehicles were built between December '42 and January '43 with body numbers around 20449 to 20473.
Further information kindly supplied by Ian Ibbotson.
The Deacon was developed during 1942 as a highly mobile anti-tank weapon for use in the North Africa Campaign. Based on the Matador 4x4 chassis it was fitted with a 6 pounder anti-tank gun on the rear cargo bed and shielded to the front & sides. The cab was also lightly armoured. Whilst being serviceable as a vehicle, it had a high profile and was difficult to conceal. It also had poor cross country performance.
It would seem that only 175 were built by AEC at Southall and were issued to divisional anti-tank regiments. The vehicles were reasonably successful but were only used in the later stages of the Africa Campaign. They were withdrawn afterwards and eventually sold on to Turkey.
Technical Details:
| | |
| --- | --- |
| Crew: | = 4 |
| Armament: | = Mk1 6 pdr |
| Rounds Carried: | = 24 |
| Armour: | = 10mm |
| Speed: | = 25mph |
| Range: | = 155 miles |