2 - THE GUY WULFRUNIAN
The story of the Wulfrunian has been told many times elsewhere, not least in Robin Hannay's fascinating book "Guy Motors and the Wulfrunian" (Transport Publishing Co. (May 1978) ISBN-10: 0903839261 or ISBN-13: 978-0903839266), and a history of the model which I wrote for Buses Annual 1987 plus a serialised article in Classic Bus magazine starting in late 2009, so I will not go into great detail here. Indeed such is the interest in the Wulfrunian that it appears in many books, magazines and articles, and the volume of published writing is probably out of all proportion to the small number of examples actually built.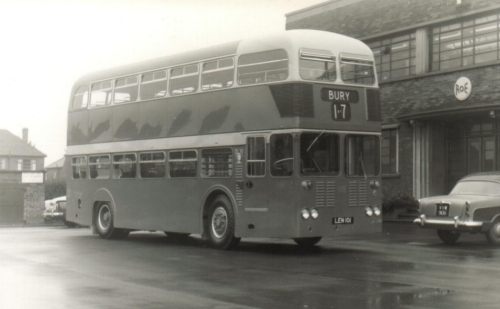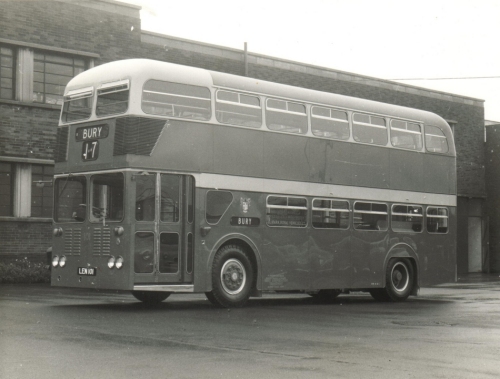 Above & Right: The Wulfrunian pictured at Roe's works.
Perhaps only the 1931 lowheight front wheel drive Gilford double decker comes close in terms of attracting so much attention out of all proportion to the number of vehicles built.
In summary, the Wulfrunian, which made its debut in late 1959, was Guy's answer to the Leyland Atlantean, which had been launched in prototype form in 1956 and entered production from late 1958, and the forthcoming Daimler Fleetline, launched in 1960. At the same time it would take Guy into the lowheight double deck market, typified at that time by the Bristol Lodekka, AEC-Park Royal Bridgemaster and Dennis Loline. These buses had successfully allowed the construction of a lowheight bus with normal gangways on both decks (i.e. no sunken gangway). The Wulfrunian was to have a front entrance alongside the driver, but unlike the Atlantean with its rear engine, it was to have its engine (usually a Gardner 6LX) at the front, in a manner later to become more familiar in the Volvo Ailsa double decker.
If Guy had stopped at that it might well have had a winner. However it was working very closely with the West Riding Automobile Company of Wakefield in drawing up the specification and layout, and there have, for many years, been stories of how the Wulfrunian was conceived over a restaurant table, involving West Riding's Chief Engineer and representatives from Guy Motors. While it is not altogether clear where and when the additional features appeared, it must have been a very good meal as somewhere along the way the Wulfrunian had acquired full air suspension (independent at the front) and all round disc brakes. On their own either feature may just have been acceptable to an industry which was then very conservative, but together they were simply a step too far and ultimately contributed to major problems for both Guy Motors and West Riding.
It should be noted that of the 137 Wulfrunians built no less than 131 had bodies by Charles H Roe using what were basically Park Royal frames and designs.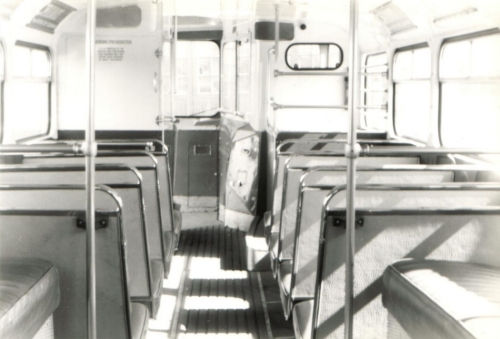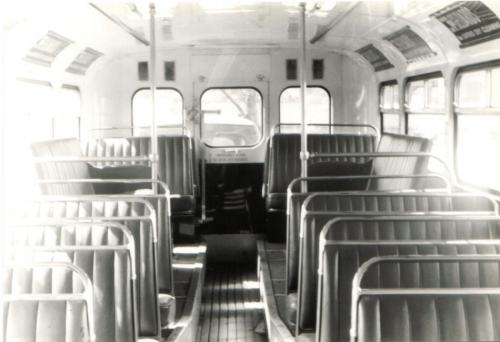 Above: Front Lower Deck Interior.
Above: Rear Lower Deck Interior.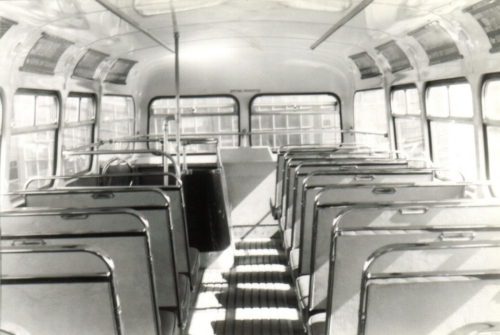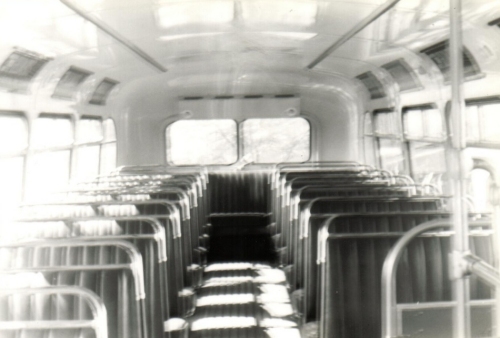 Above: Front Upper Deck Interior.
Above: Rear Upper Deck Interior.
As a technically advanced vehicle, and with rear engines a new concept for the conservative operating industry, Guy had high hopes that the Wulfrunian would be a winner. So at the 1960 Commercial Motor Show there were three Wulfrunians on display, but because West Riding 864 with its Roe body was already on the bodybuilders stand, when it came to exhibiting Bury 101 on the Guy stand, it was decided, for whatever reason, to show it as a Park Royal body.
Interestingly Park Royal records (Orders in Hand dated 2 July 1960) show job B45174 as one 75-seater Wulfrunian double-deck all-metal body 30'0" x 8')" mounted to Guy Arab chassis for finish painting only, for Bury Corporation, and it had disappeared by the time the next Orders in Hand list was issued on 30 September 1960.
Bury Corporation had traditionally not been an operator of Guy buses, its main suppliers having been AEC and Leyland, but,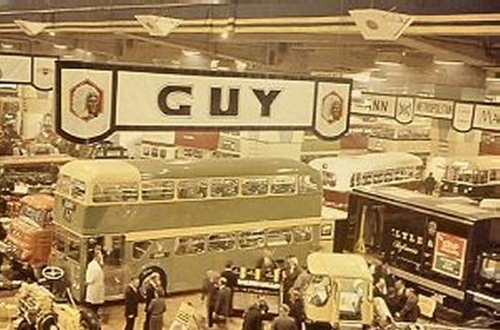 clearly it had been attracted by the Wulfrunian's potential, so it was an early customer and ordered one bus.
Above: The 1960 Commercial Motor Show at Earls Court.
Below: The Wulfrunian in the Earls Court line-up.
Chassis number FDW74693 was numerically the seventh Wulfrunian built and was bodied at Charles H Roe in Leeds alongside early West Riding examples. Photographs exist of it under construction and on completion in the Roe factory, so there is no doubt about where it was built.
There are a few interesting points here:
• The bus actually had a Park Royal body number – B45174.
• Park Royal referred to the chassis as a Guy Arab, not a Wulfrunian, which shows how much they knew about it.
• Photos of the bus under construction at Charles H Roe show it painted there, so whether the bus really visited Park Royal for painting, or whether this was simply window dressing so that they could justify it as a Park Royal product is debatable.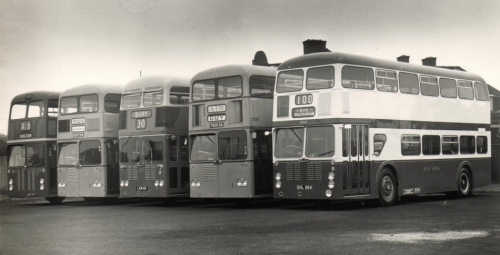 In fact 101 probably never came anywhere near the Park Royal factory, although it is possible that it may have visited for cleaning and detailing prior to moving on to Earls Court.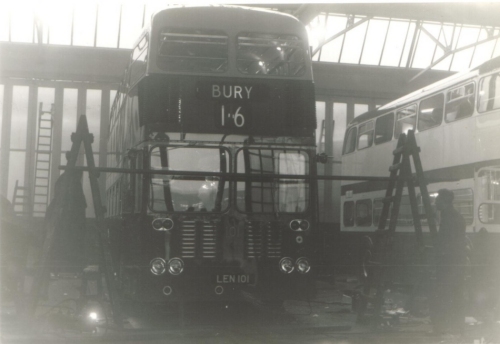 Above: The Wulfrunian under construction at Charles H Roe in Leeds.
After West Riding prototype 863 and the two Guy demonstrators, which had slab-fronted bodies with parallel sides, the body design for all subsequent Roe bodies, including Bury 101, was changed so that the front bay tapered in to give a slightly narrower front end, which itself was not quite so slab fronted and had slightly angled windscreens, recessed at the top, and modified Cave-Brown-Cave grilles.
However Bury 101 was modified from the standard design in a number of ways. These included:
• Flat front windscreens;
• Modified headlights and sidelights;
• Opening front upper deck windows;
• A three-piece (as opposed to the usual four-piece) door.
• Modified Cave-Brown-Cave grilles with an attempt a blending the front and side vents into one unit;
• Different destination indicators;
• A side destination indicator behind the front doors;
• Opening windows in every bay except the front and rear;
• Unusual horizontal bars in the front and rear upper deck side windows to align with the opening windows;
• Spats over the rear wheels; and
• A modified interior trim, presumably to suit Bury Corporation's requirements.
On completion the bus was painted in Bury's light green and cream livery and was exhibited at the 1960 Commercial Motor Show on the Guy stand. The author is clearly biased, but in comparison with the rather bland double deck bodies on contemporary rear engined chassis, and even other Wulfrunians, this was arguably the most attractive modern bus of its era.
4 - INTO SERVICE AND LATER LIFE
Once in service the rear wheel spats disappeared very quickly, with conventional wheelarches being fitted. The disc brakes were prone to overheating at the best of times, so shrouding the rear brakes can only have added to the problem.
The other disappearance was of 101 itself. It soon became unpopular, probably due to unreliability and heavy steering, amongst others, plus probably some braking problems, and it seems to have disappeared from the streets during much of the time, being noted mainly in
the bus garage.
It was soon declared surplus and was sold in October 1963 to Howells and Withers of Pontllanfraith, located in the Sirhowy Valley in South Wales, who must have thought they had a bargain with a three year old modern bus. It didn't last there very long either and was soon on the move again in August 1964 to Wrights, Penycae, with whom it spent a few years on their service to Wrexham.
In due course around 1970 it was sold to that veritable collector of old and unusual buses, Berresford's of Cheddleton. However the suggestion is that 101 made only a couple of runs for Berresford before it was decided that it was unsuitable (too complex) for their operations. Berresford had a reputation for never scrapping vehicles, and the yard at Cheddleton was full of mouldering old buses, some of which lasted long enough to be rescued for preservation. And so 101 remained quietly rotting away for more than ten years.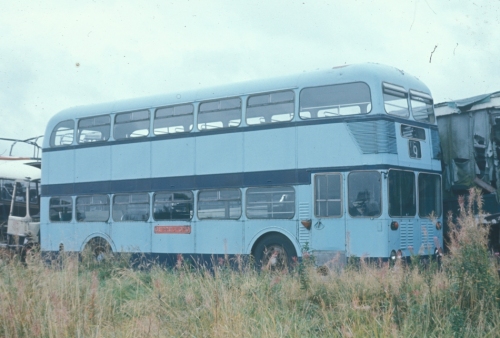 Above: The Wulfrunian at Berresford's.
5 - IN AND OUT OF PRESERVATION
During this time the author had tried unsuccessfully to buy 101 for preservation and instead turned his attention to West Riding Wulfrunian 970, which he successfully acquired and is now nearing the end of a long restoration at the Dewsbury Bus Museum.
Fortunately others were more successful and Bury 101 was in due course moved to Manchester in 1982, nominally under the care of the Manchester Bus Museum. It spent a long time stored in GMT's Hyde Road depot awaiting restoration.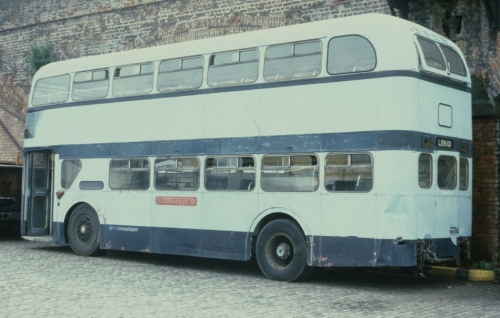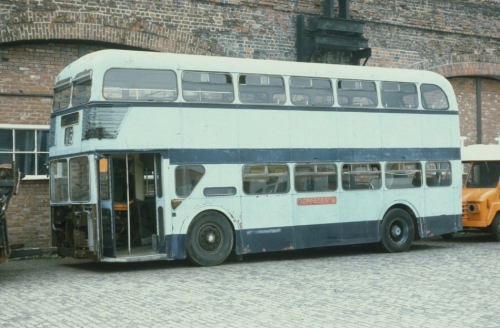 Above: The Wulfrunian at Greater Manchester Transport's Hyde Road Depot.
But sadly in 1984 it was hit by a wayward driver training bus and the front end was severely damaged. After being advertised for sale by Berresford's in late 1987, it was sold for scrap to a Barnsley scrapyard, but luckily its chassis was rescued by Ian Hunter and reputedly now resides in a poor state under a tarpaulin on a Yorkshire airfield.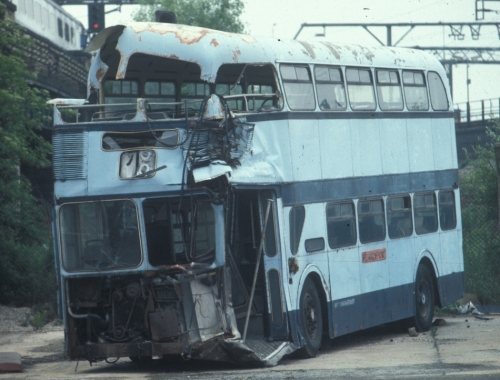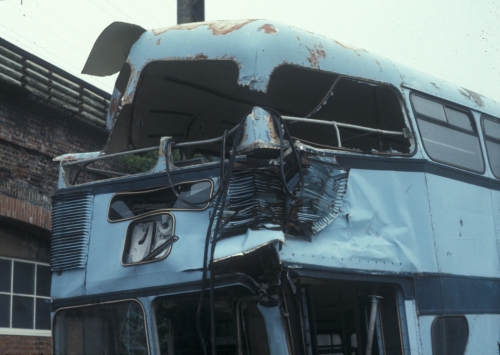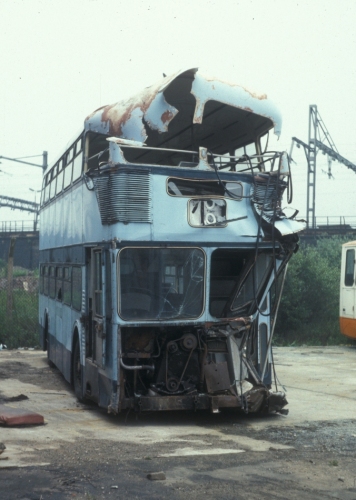 A sad end which could have been so much better. But, and this is the real point of this article, this was the Park Royal body that never was.
Some interesting images & further information can be found here.
Article & Images © Basil Hancock (All images from the Basil Hancock collection).

POSTSCRIPT: Fortunately the chassis was rescued by Ian Hunter for spare parts and spent many years under a tarpaulin on an airfield in Yorkshire contributing parts to its two preserved sisters. Finally it was decided that it had to go, and after a number of unsuccessful appeals for a purchaser in Bus & Coach Preservation Magazine, the remains were finally cut up in Penistone in January 2020 at the age of 59 years.

It is a tragedy that, even though it had been stripped for parts, the chassis could not have been saved for restoration and display as a static exhibit to demonstrate the unique features of a Wulfrunian.

A very sad end to a magnificent and stylish bus.