Routemaster RM2 was the second of the four prototypes ordered by London Transport. It was built at LT's Chiswick Works with the combined skills of London Transport, AEC & PRV. It was rapidly modified with changes as a result of the experiences with RM1 and was taken into LT's stock in March 1955.
Originally in grey primer, RM2 underwent significant testing at MIRA and further testing in non-urban environments painted in LT's Country Bus green livery as SLT57. With rethinks on engine capacity and updates to the gearbox and transmission, it was brought back for further testing in the Chiswick area sporting LT's standard red livery.
By 1960, RM2 was used for driver training, but much had been learned from the experiences with RM2 that affected all production Routemasters. RM2 is now preserved at the London Transport Museum's Acton Depot.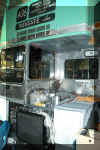 This is RM2 pictured at the LT Museum Depot at Acton in March 2008. It is undergoing long term restoration (begun in '03) back to its country green livery (see LT Museum restoration of the RM2).


And here is RM2 (left in its LT Country Bus green livery) pictured, by Brian Burgess, alongside RM3 at the 60th Anniversary weekend held at Finsbury Park in July 2014.


Here is RM2 in Shillibeer livery pictured at Syon Park on the 17th September 1978 (Image © Basil Hancock).
(George Shillibeer 1797-1866 was the pioneer of the Omnibus - you can read about him here.)
Here are three of the prototype Routemasters pictured on the 25th September 1983 at LT's Aldenham Works (Images © Basil Hancock).