Pictured here by Suzanne Chilton, is 62CLT (RM1062 standard length). It was new into service in January 1962 and finally bought in 2005 by Western Greyhound for Park & Ride Services at Newquay in Cornwall (information courtesy of Ian's Bus Stop).
The 2007 Ladies Driving Challenge held at RAF Portreath in Cornwall was an event to raise money for the Firefighters Charity and the bus featured amongst several other buses and vehicles of all types from trucks to tanks, challenging ladies to demonstrate their driving skills. The pictures offer an unusual backdrop for a London bus.
0----------0----------0----------0----------0

Here, Routemaster RM7 (VLT7) is pictured by Brian Burgess at the Manchester Museum of Transport in 2006 alongside PRV built (yes PRV built!) Green Goddess PGW163. RM7 was one of the first three production buses; new in June 1959 it went into service at Willesden; it is now preserved by Mike Hurley.

And here, in 2008, RM1097 (201UXJ originally 97CLT) is seen at the Cheshire Steam Fair at Tabley Hall near Knutsford alongside the same Green Goddess. New into service in February 1962 and used on the last crew day in 2005, this Routemaster is now preserved by Mr G Unsworth.
A little known fact is that PRV built 150 Green Goddesses on Bedford chassis (See the Green Goddess page).

RML2656 (NML656E), new in June '67 here it is in the PRV works. The following month saw it begin service at Hanwell. After withdrawal from service in 2004 it was used for "Park & Ride" services in Plymouth before being sold to a private owner in St. Tropez (Photo: ©Eric Jones).



Spotted 11th April 2015 at the car park opposite Coronation Lake in Helston, Cornwall; RML2290 (CUV 290C) was new to Aldenham in September 1965. After various service at Holloway, Tottenham & Chalk Farm it received its new Iveco engine in 1991 before being refurbished in 1993 and privatised with London General. Finally withdrawn in 2005 it was sold to Ensign Bus, then in 2010 Graham's Training Services before being used for a year on Blackpool's seafront. In February 2013 it found its way to Falmouth, Cornwall where, in private ownership, it is used for private hire. It is pictured here, by the Editor, next to a 1991 Volvo B10M-60 with Plaxton coachwork.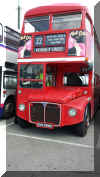 The Thames Valley & Great Western Omnibus Trust organise an annual Penzance Running Day where, on April 19th 2015, RML2290 (above) made an appearance to celebrate its forthcoming 50th anniversary of being on-the-road. Here she is pictured at Penzance Bus Station ready for a trip to St Just on the Penwith Peninsular. Whilst uneventful for the sturdy RML that trundled her way effortlessly across the unfamiliar hilly "Poldark" landscape, it was certainly eventful for the unprepared motorist confronted by this London Double-Dekker taking up most of the narrow lanes and looking as immovable as a Cornish hedge which, by the way, whilst looking green and lush, hides a granite core that will not give way whatever machinery one tries to throw at it. Many motorists unfamiliar with the territory have found their vehicles not to be irresistible to a Cornish hedge - the hedge wins! After several hundred yards of awkward reversing (not by the RML) RML2290 arrived back to Penzance unscathed.

One of the drivers, Craig George, has kindly sent in a couple of his own images of RML2290. Both taken in June 2014, the first is at Crantock Round Garden, near Newquay and the other at the West Cornwall Motor Show; amusingly perhaps, pictured next to an earlier vintage Berkeley T60 3-wheeler car, beautifully restored by owner Tim Weston; and both looking quite splendid.




Craig George, has also kindly provided his images of RML2266 (CUV 266C) pictured at Bicester, Oxfordshire in May 2011 whilst with RH Transport at Witney. New to Aldenham in July 1965 with initial service at Tottenham, Chalk Farm & West Ham and a varied career including on tour to Stuttgart, West Germany, it gained its new Iveco engine in 1990, was refurbished in 1993 and repainted red in 1998 before being used by Arriva in South London; finally being withdrawn in 2005. It is currently with Carters Heritage Buses, Ipswich; that incidentally owns a Bristol Lodekka formerly owned by one of the shareholders in RML2290! Craig mentions that he used to go to work on Sundays to drive this bus and a selection of Daimler cars owned by the director. The last image above, taken in August 2012, shows the bus one month after it's repaint in London red by The Bus Works, Blackpool; a job that was begun by RH Transport prior to its closure.

Here is RM 1898 in silver livery (SRM1) at Victoria on 17 September 1977 (Image © Basil Hancock).
(25 Routemasters were painted in silver to celebrate Queen Elizabeth II's Silver Jubilee in 1977 and RM 1898 was the first so gained the mark SRM1. Ed.)

What's this interloper I hear you ask? Isn't this page dedicated to Routemaster images; let alone the site supposed to be dedicated to PRV? And isn't this a Mercedes-Benz 811D with Plaxton Beaver coachwork? Yes true, but it's such an atmospheric image that it's slipped in here (and after all, I'm the Editor and I care not; LOL). Taken by its owner Craig George at Penryn whilst being operated by him on Boxing Day 2014 offering a free service between there & Falmouth.
0----------0----------0----------0----------0