Apart from preservation, some Routemasters, retired from London's streets over the years, have been found in use around the world and this has been a growing trend since their demise in London in December 2005. I am pleased to present here photographs of such Routemasters and I'd be pleased to receive more.
Australia







Some images, courtesy of Basil Hancock, of RM 1708 (with RT 3708 & M450) at Tempe Bus Museum in Sydney, Australia on 25 July 2004 during their celebration of RM50. And RM 1708 is also pictured in 2008 at Elizabeth Street, Sydney.




Pictured here by Basil Hancock RML 2353 was found by chance in Sydney's Western suburbs on July 1st 2016.
Canada




Denis Griffin kindly sent in these images of an RML he rode on in Victoria, Vancouver Island, Canada. Now a converted open-top sightseeing bus, LFF 881 was probably originally registered as WLT 881 (RML881) new in August '61 and bought in August 2005 for export to Canada for Gray Line Sightseeing, Absolute Charters Inc, Halifax, Nova Scotia (information courtesy of "Ian's Bus Stop"). Although now in silver livery it's good to see the familiar London red retained for the internal luggage compartment above which is the PRV makers plate incorporating the trademarks.
France




Also by Basil Hancock here are a few images of the former RM102 spotted in Paris during July 2008.

Germany


And two pictures of a Routemaster pictured by Martin Wain in Germany in 2006. Unfortunately the waste bin hides the number plate (WLT47?). However, I think it is probably RM470 (WLT470); new in September 1960, it was withdrawn in 1994, and NOT exported to Denmark the same year (see below Ed.) and seen here in Düsseldorf in 1996. Can anyone confirm? Well, yes they can; see Hermann Herfurtner's comments below.
Hermann Herfurtner has kindly written in to confirm that the bus is indeed RM470 being shown above at the 'Historicar' classic vehicle show at Duisburg in 2006. Hermann purchased RM470 in London in 1994 and, on November 1st, shipped it directly to Neuss, near Düsseldorf. Contrary to information I found elsewhere and mentioned above (Ed), the bus was never exported to Denmark. Hermann sold RM470 in 2010 but now owns RM 1330 and RML 2663 shown below. (Images by Hermann Herfurtner)



Here is RM1330 being delivered in Germany.



And here is RM470 celebrating Christmas some years ago in Düsseldorf.



And RML 2663, having been fitted with a lifting roof, is evidently used for promotional events.

Ireland






And in Ireland on September 28th 2014, Dublin held its inaugural 'Dublin Port Rally' that featured a number of Routemasters. Pictured here by Brian Carroll it seems well attended with everyone having a great time. 'Good to see more preserved Routemasters still providing services in Ireland. Included is RM406 (WLT406) that was new in July 1960 and into service at Hanwell by November; withdrawn in 1985, by 1986 it was preserved in Ireland. RML2434 (JJD434D) was new in March 1966; it was with London Country in 1970 and by '78 was in red livery until being withdrawn in 2005 when it became Lincoln green before preservation in Dublin in 2007. ZV36920 was RM1185 (185CLT), new in May 1962 it went through various ownerships before being withdrawn in 2005 and exported to Dublin in 2007 where it has been used, somewhat ignominiously, as an advertisement & direction sign for airport parking. Clearly in need of a repaint, it is good however to see it being used at rallies and for the occasional passenger transport. Better to have an inglorious use than none at all!
Japan
First is RM1889 found at the "Little World" open-air theme park museum at Inuyama, Nagoya, Japan.
Richard Coombs, who kindly sent me the photographs, says "The bus is used to take visitors around the theme park that comprises a mixture of architecture and restaurants offering a variety of cuisine from around the world, set amongst great nature and a few exotic animals; but it is now (Dec '07) also used around Nagoya advertising various store products. It is hired out by 'Upstar' a Tokyo based company that the driver says has three buses; but it is unknown if the others are also Routemasters." Richard adds that the lower deck is usually empty as the Japanese don't have double-deckers so the opportunity to ride on an upper deck is a special treat.



James Bunting sent in his images of RM2018 in the Marunouchi area of Central Tokyo taken in October 2014.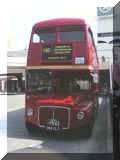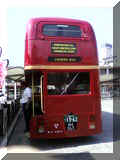 I'm grateful to Ralph Bosman for sending in these images of RM 1164 snapped using his mobile phone at Shimonoseki, a city in West Japan that has strong ties with Britain as it was the location of the first British Consulate. Conceding that the present RM 1164 may be a very different bus from the original, Ralph says that "RM 1164 was also 'the bus of my boyhood, as I went to Donhead and Wimbledon College located between Wimbledon and Raynes Park, and this bus was among those that replaced the trolleybuses on routes 604 and 605 running from Norbiton on Route 131." He says, however "at the time, I preferred the RT buses to the Routemasters, and I'm afraid I still do, though the Routemasters have certainly earned my ungrudging respect over the years and in fact I've become very fond of them too." Ralph further comments that it gave a surprisingly good ride which belied its age.
James Bunting visited Shimonoseki at the end of December 2013 and found that RM1164 had been retired from service. It appeared rather forlorn, in an area of grassland with a low fence around it. Unfortunately, it was late in the day when James passed by and there was no opportunity to take a picture. However, he has found a blog with a photo of it, dating from 2016, by which time it seems to have been joined by a funfair:
http://business-garden-tokyo.blogspot.co.uk/2016/05/london-bus-in-shimonoseki.html
James has also found a video of RM1164 in operation in Japan:
https://www.youtube.com/watch?v=BPDnePUWBTQ
(RM1164, new in May 1962 was presented to a Japanese museum in December 2006 and exported there three months later. Ed.)

Spot the Routemaster in Tokyo! Mark Gallery snapped this photo of a distant Routemaster at work in Tokyo and somewhat out-of-place in these unusual surroundings; and it is for that matter that this image has a certain charm. It's clearly fortunate that Japan drives on the left.

New Zealand

Pictured here by Basil Hancock on September 9th 2019 are four photos of RM 1670 on sightseeing duties in Christchurch, New Zealand (with text by Basil Hancock).



Note that the radiator grille has been moved forward. I suspect that this may indicate that a replacement engine has been fitted, but I have no details.*




These two photos of the bus passing the white chairs are very poignant. Christchurch was hit by a devastating earthquake on 22 February 2011 which sadly killed 185 people. A year later this memorial, comprising 185 white painted empty chairs, was opened on the site of the Oxford Terrace Baptist Church and in October 2012 it was moved to its present location on the site of St Paul's Church, which was destroyed in the earthquake; and is adjacent to the site where the CTV building collapsed, killing 115 people. The site of the building was immediately behind the RM in the second photo.
(Google Streetview site of the white chairs.)
(* In October 2005 RM 1670 was fitted with a Hino EK100 engine; that action no doubt being responsible for the rather strange extended radiator cover arrangement to accommodate the new engine. I can't help but wonder why the engineers didn't finish off the 'open aspect' with some form of paneling, Ed.)
(Information from Ian's Bus Stop)
Sri Lanka
Roger Bent kindly sent in his images of examples of a number of Routemasters' that were exported to Sri Lanka. One of the local registrations (last image) looks like '60 6615', and if so, it matches up with RM2158 (CUV 158C) which was new to Aldenham in March 1965. After varied use and some foreign excursions it was finally shipped to the Sri Lanka Transport Board in December 1988 and placed in service at Kandy where it was recently (2019) caught on camera by Roger.
Thailand


And now for two images of RMLs in Bangkok, Thailand. Richard Mercerr kindly sent in these images of RMLs he found at the Jesada Technik Museum at Nakhom Pathom near Bangkok. The leftmost is RML2622 (NML 622E) new to Aldenham in May 1967 and into service at Holloway it was withdrawn in January 2004 and sold to Chase Enterprise (Siam) Co. Ltd, Banyeehan, Thailand in December 2005; then on to the museum in May 2013. The other image is of RML2707 (SMK 707F) new to Aldenham in September 1967 it first entered service at Hanwell & Southall also being withdrawn in January 2004. It then also followed the same path as RML2622. Richard describes an "hellfire ride" back into Bangkok on RML 2707 that was appearing at a truck fair. (I bet; ED.)


Here are two photos of RM317 that Malcolm Harrison took in 2016 during a cruise in South America. Ushuaia is the world's southernmost city and is the capitol of the Tierra del Fuego Province in Argentina. RM317 (WLT 317) was new to Aldenham in April 1960; after a varied career it was withdrawn in January '94, sold to PVS (Carlton) in November '94 and almost immediately exported to Punta Brava, Argentina to be used for sightseeing tours. It is shown here opposite 367 Av. Maipú, Ushuaia.
Thanks to all my contributors above; you can be a contributor too if you see Routemasters in service (or otherwise) around-the-world?
Please send me your images!