Below I am guessing history but I would be interested to hear from anyone who might have further information.

I have no idea of the date this was taken but I would guess circa late 1920s. Interestingly, the sign on the cross beam says "Smoking strictly prohibited in these works at any time". Obviously extremely important with the possibility of fuel escaping.

As my father is in this picture I can date it as circa 1935. He looks about 20 and he would have moved to the drawing office not long after. It would be of great interest if anyone can provide names/information regarding others in this photograph. If so I shall include details below:
The following is kindly advised by Andy Barnes:
I can put a couple of names to the faces as I remember seeing the photograph when I worked at PRV.
Sixth from the left of your father is Bill [Ted] Cook who was the foreman of the body shop and who always had a Woodbine in his mouth. Third from the left of him (Bill [Ted] Cook) is Fred Cootes (who also had a brother working there but I don't recognise him in the photo) and next to him is Mich Lyden. On the row above your father and fifth from the left is Jack Bailey who was the chargehand of the body shop. Third from the left on the back row is Fred Conway.
The following is kindly advised by John Malamatenios:
From early 1952, John remembers Bill Cook (not as the name Ted) being foreman of the composite shop - (the shop that made timber bodies and buses) - John recalls him as a great man, well-respected, who smoked cigarettes, coughed a lot and called everybody 'Matey'. John believes he was from Lancashire.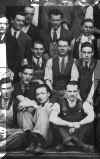 Detail from the picture above. My father is third row up wearing an apron with Freddy Biggs (of Hayward, Biggs & Hill) behind resting his right hand on my father's shoulder. Freddy is resting his left hand on the shoulder of Welshman, George Instrell.

This picture looks to be in the Carpentry shop with sections ready for installation, I would guess circa late 1920s? (photographer J. & M. Brooks, "Mandalay" Carthagena Estate, Broxbourne, Hoddesdon, Hertfordshire).

This is the Aircraft Factory - Inspection Department - November 1944..

This factory is unknown but might well be the PRV site in PRC or even Hall Lewis days?.