I am uncertain whether all these images are of the factories at Park Royal.

Rolling aluminium.

Bus repairs.

Moving heavy loads.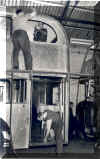 Bus finishing.
The following is not associated with PRV but as this site is also about social history I include it anyway.

This is the Gilford Motors factory in High Wycombe circa 1932/3 as that was about the time when the Hera chassis was introduced and it is this model being constructed here.
0----------0----------0----------0----------0