Welcome to my Memory Lane! Any images that I cannot place under a heading elsewhere will be displayed here and/or in the Mystery Tour page in the hope that someone might be able to determine more about them. I hope this page helps you take a trip down your memory lane:

This is a fitting image to start the Memory Lane. It is of a Lacre truck doing deliveries from The Haymarket Stores, 28 Haymarket, London SW. It appears to have run into a ditch after the chain-drive to the rear wheel snapped. The open-to-the-elements cab design and its hard tyres must have meant an arduous working life for the occupants.
The Lacre Motor Car Co. began at Long Acre, Covent Garden in 1902 (Lacre is a derivative of Long Acre)!
I can help date the picture as I know that the smaller of the hapless occupants is John Alfred Brown (born 24 Feb 1899 at Camden - died Dec Q 1979 at Thurrock). He was my father's half brother and assuming he is about 14/15 in this picture we can date the image to circa 1913/14.
I don't know who the other chap is nor who took the picture.
This is from my father's collection of images; and it does seem to me to be amazing happenstance that a photographer was there on that grey day to take a picture of this calamity; or was he part of the crew and a photography enthusiast with his camera at the ready? Or was it staged and if so why?
Can anyone give me more details of the truck and or the company?
0----------0----------0----------0----------0
Now a series of images of a bygone age of relaxed travelling from Martin Wain.

Martin's grandfather Francis Joseph "Joe" Wain worked for Midland Red from 1933 to 1960 when at age 60 he sadly died as a result of a thrombosis from driving long distances on the summer "Scotland tours". He is pictured here at Billesdon Village terminus, Leicestershire, next to the unknown conductor with their pre-WW2 petrol engined bus HA 2455. (Does anyone recognise the bus? Ed.) Roger Ingle has advised that HA2455 is a Midland Red SOS ODD model with United 26 or 30 seat bodywork. First built in 1929 and fitted with pneumatic tyres, some made it to 1938.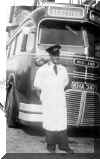 "Joe" Wain in front of KHA347 which he always commanded on the Scotland tours. Roger Ingle adds that this coach is a Midland Red C1 coach with 30 seat Duple coachwork; built around 1948/9. Based on the Midland Red S6 underfloor engined bus. Lovely coaches their livery being in red & chrome with a black roof; magnificent when clean.



And pictured here in the late 1950's with his enthusiastic charges.

Stopping off in North East Scotland in 1959.


Left in first and right in the second is Martin's paternal uncle Ken Bateman. In the rightmost image there is a tank on a transporter!

The Menai Bridge in 1954.
0----------0----------0----------0----------0