London Transport RT - RT4325 History
by Derek Funnell
Back in the early 1970's, a friend of mine, Robin Thomas, told me that he was considering purchasing a London bus, and wondered if I'd like to go in with him. As I'd been interested in commercial vehicles since primary school days, I said yes.

He'd looked into the legalities of owning such a vehicle, and in those days it could be registered as a 'private heavy motor car' and driven on a car licence. He'd also arranged garaging for it. Insurance was a bit steep, and we could only carry a maximum of six persons.

He had seen RT4325 when it was still in use with London Transport (circa 1973), and had written to them to state his interest and ask when it was likely to be withdrawn from service. I don't recall the response, but it was sold to the London Bus Preservation Group in November 1973, and he purchased it from them in October 1974 (RT4325 was the last RT in service that had a roofbox to display the route number).
These three photo's show it in service, and were passed onto us by a bus enthusiast, following an article in the Hayes Gazette after Robin had bought the bus.
A couple of photographs of RT4325 in service can be found on the Internet: (At Kenton Road - circa 1968) & (At Golders Green Station - circa 1968)
We took it to a couple of rallies in 1975, and in February 1976 it was put in a barn on a farm in High Wycombe in order that renovation work could be carried out. At this point another person, Jeff Guy, became involved in the project.

And here is RT4325 at the Weymouth Rally in 1975.
We started by removing the lower body panels to make access to the chassis easier. As the panels came off, corrosion and wood rot were exposed, and therefore more panelling was removed. This was the thin end of the wedge, and we went on to dismantle both the body and chassis entirely.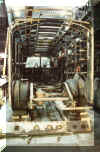 The platform riser was removed in January 1978 as it was considered beyond repair, so a replacement was made with the aid of the LT drawings (RT.006.E1). Also the wheel arches and much of the rear partition.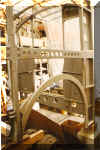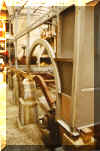 These three photo's show the body as it existed in 1980. All components here have been removed, refurbished and re-assembled.


Hot Riveting on the Frame 05 Apr 1981 & the frame assembly. This shows how far the chassis was dismantled. The flitch plates are being riveted back onto the side rails.

The chassis has since been re-built, and was put on display at Covent Garden in on August 6th 1989 for the 'RT50' rally, and at Newark in May 2012 for the AEC centenary rally.
Work on the body suffered delays from other vehicular distractions, and for a while, existed as a lower deck skeleton, from the platform riser forward, but excluding the front bulkhead.



The front bulkhead required much repair work to the lower panelling due to fatigue cracks and corrosion. LT fitted reinforcement panels at major overhaul. (See drawing RT.440.E1).


Here is an inter-roof panel for RT4325 shown after de-rusting. In the second image a PRV inspection stamp can be seen showing PRV 15 (Did "15" denote a particular inspector? Does anyone know? Ed.).
Derek Funnell's update - January 2016

Derek writes: "Here's a rather overdue update on RT4325's restoration progress. The main milestone passed, is the rebuilding and fitting of the front bulkhead. Work on the bulkhead began in August 2010 and was completed in November 2014. With that installed, it was then on to the floor framework, and those in number 1 & 2 bays have now been fitted."
Derek Funnell's update - July 2017

Derek writes: Fitting of the lower deck floor framework was completed in June 2016. New footstool floor panels were made up and fitted in No. 3 bay in July 2016. These had to be made in two pieces and butt welded, due to the semi-circular pressing not running the entire length of the panels; to have made them as one piece panels would have required some serious press tooling! We were very happy with the finished result.

The next task was to make up and fit new cant plate sections along the edge of the inter roof. The original ones were beyond repair, so we had eight foot long sections (longest we could get) made up by a local sheet metal fabricator. Between August & September 2016 the sections were cut, drilled, and welded, to make the four cant plate assemblies (as per LT drawings RT.002.G9, RT.046.G1, & RT.055/6.G1).

The new cant plates could have been fitted at this stage, but it was preferable to fit them with the foot brackets as they are bolted through the cant plates and effectively secure them to the inter roof sticks. As it was a wet assembly (jointing compound) we wanted all fixing points to be fully secured on installation.

Like the cant plates, the original foot brackets were also beyond saving, so a complete new set was made up; including the various items of tooling required (formers, press tools, drill jigs). Manufacturing the brackets took about three months (Jan – Mar 2017).

With the foot brackets completed, installation of the cant plates was carried out during April and May 2017.
The next item on the agenda is the front frame assembly; and that will figure in the next progress update.
I am grateful to Derek Funnell for supplying the set of over eighty documents of drawings, plans, lists etc. detailing the London Transport RT body structure that was used in the reconstruction of RT4325. These documents can be downloaded from the LT RT Downloads page. Ed.