Leyland Atlantean NDR 509J (PRV Body No. B58169 - chassis 7100481) was the 9th in a batch of 15 built during March/April 1971. Delivered new to Plymouth Corporation it was withdrawn in 1986. After working in Bristol with A-Line buses it ended up as a mobile youth club in the Welsh Valleys. In 2013, it was purchased by Dave Jenkins & brothers Ed & Philip Heseltine and taken back to Plymouth for restoration.
(Below is NDR 506J from the same batch shown as new in March 1971 Ed.)




Registration Number NDR506J Built March 1971 (Body No. B58166); for Plymouth.
NDR 509J is believed to be the only surviving PRV bodied Atlantean PDR2 remaining in the in U.K., though there is the exhibition vehicle in Sheffield. Six others of the narrow windowed earlier versions are known to exist in Australia/Canada.
(I am grateful to both Ed & Philip Heseltine for all the following information; all images are courtesy Philip Heseltine© & Dave Jenkins©. Ed.).






These first photographs were taken soon after NDR 509J was acquired by the restoration team and before arrival in Plymouth.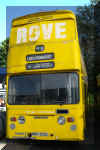 These later photographs were taken soon after NDR 509J arrived back in Plymouth in August 2013.
The original Formica paneling, which has now been removed from the lower deck and stairwell, was hidden under four layers of paint; blue, green, white and silver. The bus has also been completely stripped of interior fittings
Ed Heseltine comments: We have the complete workshop manuals for the Leyland parts of the vehicle, but very little maintenance information to do with bodywork. (If you can help, please advise me. Ed; I'll be happy to pass information on.)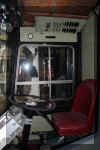 June 2015 shows the completion of the cab area.
There are only a couple of small areas of bad corrosion on the cross member floor supporting part of the chassis. This, after 44 years, during several of which NDR 509J had been neglected and exposed to the elements out doors, is a testament to the Park Royal engineers' workmanship.
We also found when removing the lower deck ceiling, that it was timber framed and again, amazingly, all the wood looked as though it had just been fitted.
As of October 2015, the bus does run but there remains at least a year's work to do before gaining an MOT certificate.
We recently (November 2015) found some window hoppers of the right depth and metal forming up at Winkleigh West of England transport collection (vehicle graveyard). The body shop specialist from Plymouth Citybus measured the window frame accurately and has taken hoppers away to cut down to the right length. Fortunately there is a good window rubber producer in nearby at Cullompton Devon, so we will get frames reset for the glass and hopefully windows replaced early in new year.
We hope to have help from an electrician who worked on the PDR2 while in service so hopefully he will be able to sort out internal lighting and other problems.
So the plan, loosely, is to try for an MOT in 2016, though there will still be a lot of work needed afterwards to get NDR 509J to a final painting standard.

This image was taken of NDR 509J at the Plymouth City Transport Preservation Group's first Annual Bus Rally and Running Day on the 26th July 2015. This was the first public appearance of the bus since her return to Plymouth. She is parked alongside restored 171 TTT171X, a Leyland Atlantean AN68/1R with ELCB H43/32F and the last Atlantean to be delivered to PCT and the last to operate for Plymouth Citybus in September 2006. Also seen is the recently repatriated ex. PCT all Crossley 335 DJY965 delivered in 1948 [but that will be another restoration story].
Update January 19th 2016:
Dave Jenkins writes: Here's an update on our progress over this past weekend. Work has commenced to remove the injectors for overhaul, hopefully this will cure the starting problems. Stripping of body panels around the rear wheel arches continued that has revealed a fair bit of corrosion where the steel has reacted with the aluminium; complete replacement of rear arches is planned. Also the remaining lower deck floor has now been removed from the rear of lower deck to allow for the cleaning and repainting of the chassis.
Update March 26th 2016:
Dave Jenkins writes: Here is a brief update on our progress over the last few weeks. The injectors have been overhauled and refitted allowing NDR 509J to be started and moved to a new position inside the depot. the remaining metalwork has been removed from the rear wheel arches and preparation is underway for the manufacture of steel replacements. Ed has made good progress in repairing the fibreglass peak and this is now ready to receive the replacement front window frame.
The next phase is to move NDR 509J outside to allow pressure washing of the chassis and repainting.
Information to follow as progress allows; so please return for the updates.
Update November 19th 2016:
Dave Jenkins has written to give an update on recent progress on NDR 509J.
A good deal of work has been carried out on the rear seat box areas and preparing the chassis for painting. New and refurbished framing has been fitted internally to allow installation of the replacement steel wheel arches (much of the original alloy arches had corroded away after reacting with the steel frame). The chassis has been pressure washed and apart from a few minor repairs is in very good condition. This will be given a coat of primer and then silvered. Replacement floor boards have been cut to shape and await fitting. The side facing seats have been recovered and look very smart when in place. Externally repairs are being carried out around the rear arch areas and then new panels will be fitted. Whilst being washed, the opportunity was taken to have a run around the yard; some minor engine issues such as leaking exhaust joints and fuel system cleaning are still to be addressed.
The following images are by Dave Jenkins and Philip Heseltine.






Update February 19th 2017:
Dave Jenkins has written to give an update on the latest progress with NDR 509J.
Time for a few words on recent developments. Ed Heseltine has made excellent progress on repairing the body structure behind the rear wheels. The nearside arch has been refitted and replacement body side panels are being fitted, final trimming and beading still to be added. We have sourced replacement fog lights so the front of the bus looks more complete. The replacement of the front upstairs window is still ongoing. Hope to have more news soon.
The following images are by Dave Jenkins.







Update February 6th 2019:
Dave Jenkins writes: We thought it was about time to advise an update with some good news about NDR 509J.
After a break of some 33 years, the weekend of 2nd & 3rd. February 2019 saw NDR 509J return to the roads of Plymouth After a period of major repairs and overhaul to the fuel system, gearbox and brake system, she was returned to us to enable body work restoration to continue. A day of faultless running saw her visiting a few of her old routes around the city. Attached (below) are some pictures of the day, a copy of a PRV inspection certificate which was found under the stairs, and interestingly the original purchase invoice.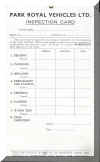 Update April 17th 2020:
Dave Jenkins writes: I thought I would take a moment during these strange times to update you on progress on NDR 509J.
A great deal of progress has been made by Philip and Ed on the interior; the seat bases have been modified to match the correct pattern where required and fitted (they will need to come out again when the floor is recovered). Ed has installed replacement fluorescent lighting on both decks and the lower deck ceiling panels have been fitted.
A replica passenger counter has been installed; these devices were employed in some of the early vehicles to count available seats on the upper deck.
We have had the upper deck windows resealed by a professional company (much quicker than us doing them) they also removed and resealed the windscreen. This did cause some problems as the glass was much smaller than the aperture but they made a good job of it.
The centre door mechanism has been overhauled and now operates smoothly. There are still a few electrical faults which need looking at when time permits.
We have obtained a replacement set of engine covers which are much better condition than the ones fitted, these will be overhauled in time.
The next major task that is planned is to get the roof re-paneled by a local company, there is a lot of damage in places and many leaks so unfortunately we feel renewal is the only option.
Mechanically NDR 509J is running well and we take every opportunity to give it a run; the last was across Dartmoor to Yelverton in the pouring rain so that tested both the sealing and the ceiling!