First is RM1889 found at the "Little World" open-air theme park museum, set amongst great nature and a few exotic animals, at Inuyama, Nagoya, Japan.
Richard Coombs, who kindly sent me the photographs above, says "The bus is used to take visitors around the theme park that comprises a mixture of architecture and restaurants offering a variety of cuisine from around the world; but now (December '07) the bus is also used around Nagoya advertising various store products. Richard adds that the lower deck is usually empty as the Japanese don't have double-deckers so the opportunity to ride on an upper deck is a special treat. It is hired out by 'Upstar' a Tokyo based company that the driver says has three buses; but it is unknown if the others are also Routemasters."
According to James Bunting both RM1889 & RM2018 (new in 1964 and exported to Japan in May '89), are owned by Upstar and now appear to spend much of their life wrapped in vinyl. Both are on this Japanese blog (link below) where the additional emergency exits, that have been fitted to satisfy the Japanese Construction & Use regulations, can be seen:
http://blog.livedoor.jp/koyapop2/archives/51818660.html
(RM2113, new in January 1965 and exported to Japan in October '89, is the third RM owned by Upstar. Ed.)



James Bunting sent in his images of RM2018 in the Marunouchi area of Central Tokyo taken in October 2014.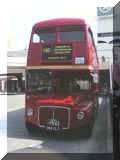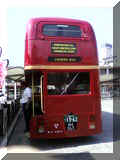 I'm grateful to Ralph Bosman for sending in these images of RM1164 snapped using his mobile phone at Shimonoseki, a city in West Japan that has strong ties with Britain as it was the location of the first British Consulate. Conceding that the present RM1164 may be a very different bus from the original, Ralph says that "RM1164 was also 'the bus of my boyhood, as I went to Donhead and Wimbledon College located between Wimbledon and Raynes Park, and this bus was among those that replaced the trolleybuses on routes 604 and 605 running from Norbiton on Route 131." He says, however "at the time, I preferred the RT buses to the Routemasters, and I'm afraid I still do, though the Routemasters have certainly earned my ungrudging respect over the years and in fact I've become very fond of them too." Ralph further comments that it gave a surprisingly good ride which belied its age.
James Bunting visited Shimonoseki at the end of December 2013 and found that RM1164 had been retired from service. It appeared rather forlorn, in an area of grassland with a low fence around it. Unfortunately, it was late in the day when James passed by and there was no opportunity to take a picture. However, he has found a blog with a photo of it, dating from 2016, by which time it seems to have been joined by a funfair:
http://business-garden-tokyo.blogspot.co.uk/2016/05/london-bus-in-shimonoseki.html
James has also found a video of RM1164 in operation in Japan:
https://www.youtube.com/watch?v=BPDnePUWBTQ
(RM1164, new in May 1962 was presented to a Japanese museum in December 2006 and exported there three months later. Ed.)