This page is dedicated to images of the PRV bodied Green Goddess PGW170 that can now be seen at the Classic Air Force Museum in Newquay, Cornwall. First, some history of this particular vehicle courtesy of Brian Burgess:

Bedford RLHZ Self Propelled Emergency Pump chassis number 7215 was built at Luton between September 1953 & October 1954. The chassis, cowl & Sigmund pump were then stored until November '54 when, along with another 149 chassis, cowlings & pumps she was sent to Park Royal. There chassis number 7215 was given a superb hand crafted Park Royal body number PR37563 and given the registration PGW170. She was then issued to an Home Office Transport & Storage Depot 'somewhere in the UK'.

We believe PGW170 went to the LCC (London County Council). There is photographic evidence that she was used by 42 Commando Royal Marines during Operation Burberry (the Firemen's strikes of 1977/78) and based at Dawberry Fields Territorial Army Centre at Kings Heath, Birmingham. It's thought that she went back into storage until Operation Fresco (the Firemen's strikes of 2002/3) when she was sent to RAF Leuchars in Fife after which she remained in storage until being sold into private ownership in 2006.

That's PGW170's history as far as we know. If anyone knows any different or can add any details to this we'd be happy to hear.
Steve Squires describes the vehicle's recovery to Newquay and it's early outings.

Our new baby arrives home on the evening of 22nd July 2014 after an eventful ten mile journey that took an hour and a half. The poor old girl could only manage about a mile at a time thanks to fuel starvation, so it was a case of gentle coaxing along the lanes.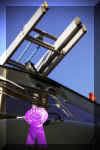 Tintagel Carnival was fast approaching, so it was time to get dirt under the finger nails, sort out the fuel starvation and improve the brakes. Then some frantic polishing, all of which was worthwhile as we took second prize!! She is shown here proudly displaying our 2nd place rosette (3rd image courtesy of Peter Reoch).



No rest for the wicked! Four days later at Delabole Fire Station open day. We were made so welcome and took centre stage. Lost count of how many kids and big kids went through her during the visit. Later that evening, she was straight off down to her new home at the Classic Air Force Museum in Newquay, Cornwall.




Few more running problems on the way to Newquay, timing and mixture probably. Here she is in the sunshine and with her new stablemate, a Mk 10E Nubian.


Settling in the dry with her new stablemate, a Mk 10E Nubian.




It's our intention to return PGW170 to her appearance during Operation Fresco. This will mainly involve re-instating her markings at that time when she served with the RAF. Fortunately we've found a photo which pretty much shows what we need. She still carries a large amount of equipment much of which was used during Fresco. What we don't have, we will work to acquire over time. However, an early concession has had to be made! We found a bell and it looks great; even though a bell was never an original fitment!
PGW170 is now running quite nicely. However the exhaust manifold has cracked and we suspect that may be contributing to a bit of "popping and banging" when she gets really hot. The timing and mixture are now much better and the fuel starvation was cured by re-routing the lines and removing a fuel catalyst that had been fitted at some time. The catalyst was laying on top of the manifold and getting very hot, resulting in fuel vaporisation. The clutch judders, so that will be addressed in time and, whilst they're working ok, the brakes are due for a complete overhaul, really for everyone's peace of mind.
PGW170 is on display at the Classic Air Force Museum in Newquay, Cornwall along with two other fire engines though any or all of them will be run out from time to time. Sometimes this will be just around the museum grounds, but we hope to display these vehicles at local carnivals and steam rallies etc.. We don't want any of the engines to be "hangar queens" as we believe that it's great to see and hear these lovely old preserved vehicles in operation.
The "renovation team" consisting of Steve Squires, John Palmer & Mike Squires would like to extend their thanks to the museum volunteers for their on-going contributions and support.
Obviously PGW170 is work in progress; and probably always will be to some degree, so please return to these pages and see the updates that will be posted here from time to time. And if you want to see her, head on down to the museum on your next visit to Newquay.
Here are some images showing the repainting of the RAF text & decalcomania.