The Matador was a lorry/military chassis designed as a 4x2 or 4x4 arrangement that served a variety of military roles. As a 4x4 it formed the basis of the Deacon anti-tank gun.

Produced at Park Royal. To me it looks very fragile and open to easy attack.
The following information kindly supplied by John Harrington of the AEC Society.
The Deacon is a self propelled gun built on an AEC Matador 4x4 chassis. These vehicles were built between December '42 and January '43 with body numbers around 20449 to 20473.
Further information kindly supplied by Ian Ibbotson.
The Deacon was developed during 1942 as a highly mobile anti-tank weapon for use in the North Africa Campaign. Based on the Matador 4x4 chassis it was fitted with a 6 pounder anti-tank gun on the rear cargo bed and shielded to the front & sides. The cab was also lightly armoured. Whilst being serviceable as a vehicle, it had a high profile and was difficult to conceal. It also had poor cross country performance.
It would seem that only 175 were built by AEC at Southall and were issued to divisional anti-tank regiments. The vehicles were reasonably successful but were only used in the later stages of the Africa Campaign. They were withdrawn afterwards and eventually sold on to Turkey.
Technical Details:
| | |
| --- | --- |
| Crew: | = 4 |
| Armament: | = Mk1 6 pdr |
| Rounds Carried: | = 24 |
| Armour: | = 10mm |
| Speed: | = 25mph |
| Range: | = 155 miles |
Further information on the Deacon can be found here.
Also based on the AEC Matador chassis was the "Dorchester " Armoured Command Vehicle.
It is not known which company produced the bodywork for this vehicle. It might have been PRV and I show this image here in case anyone can shed light on its body builder. Does anyone know? Ed.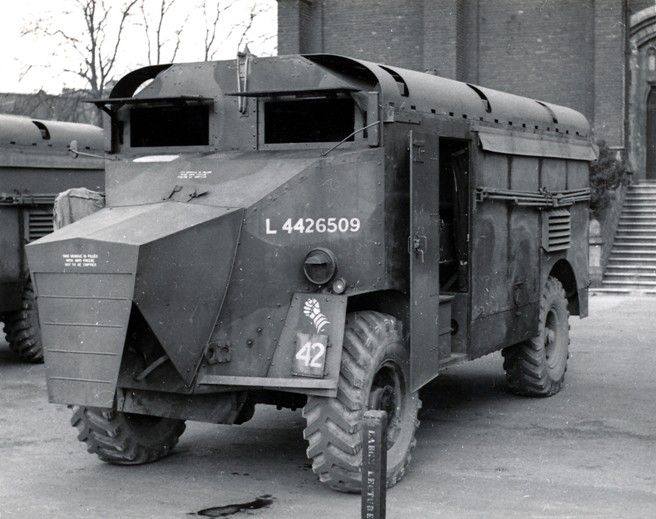 The photograph from the collection of David Haugh is reproduced here by kind permission of War Wheels.

Further information on the Dorchester can be found here.

Other potential Matador chassied military vehicles

Also the AEC Armoured Car is believed to be based on the Matador chassis with potential PRV involvement.

Here are the three versions of this vehicle: (Can anyone confirm the AEC chassis type and/or the body builder? Ed.)

http://www.warwheels.net/AEC1INDEX.html

http://www.warwheels.net/AEC2INDEX.html

http://www.warwheels.net/AEC3INDEX.html